Hey all! With my insane year thus far I haven't made it out to ANYTHING but I'm not dead yet... though I have decided to thin out some of my more artistic tanks that I've never or hardly battle / drive.
I'll attach photos and MORE detailed descriptions as required, but many of you know what I put into these vehicles. 
ALLIED: SU-76i
Plastic reinforced lower & running gear with metal tracks, metal sprocket & idler and plastic wheels. Clark board & IR set up for Tamiya receiver, although ATM the emitter is burnt out. Otherwise in good working order. Barrel elevation on servo, metal gearboxes. Proud of the looks of this tank destroyer.
$450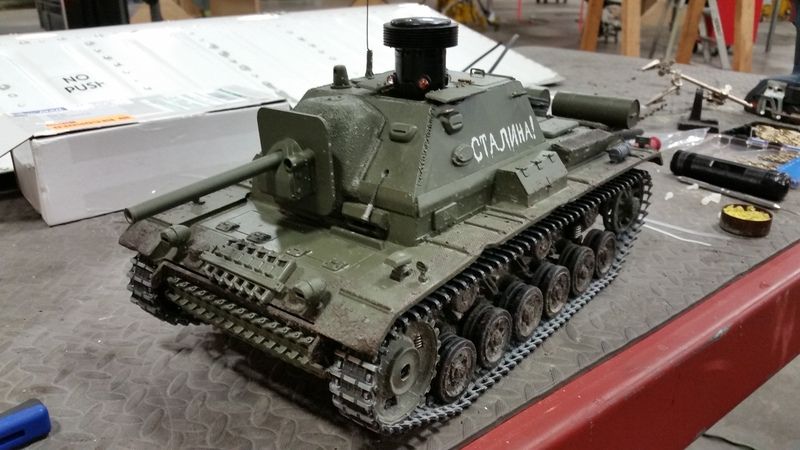 Pershing
Clark board, Asiatam recoil installed (One of only a few Pershings with this mod
 ), set up for IR battling with Tamiya sensor. Steel gearbox, plastic hull & metal suspension, Rc Tanks Australia metal running gear kit with metal wheels, bearings & suspension arms. Plastic tracks. Goes like snot
$450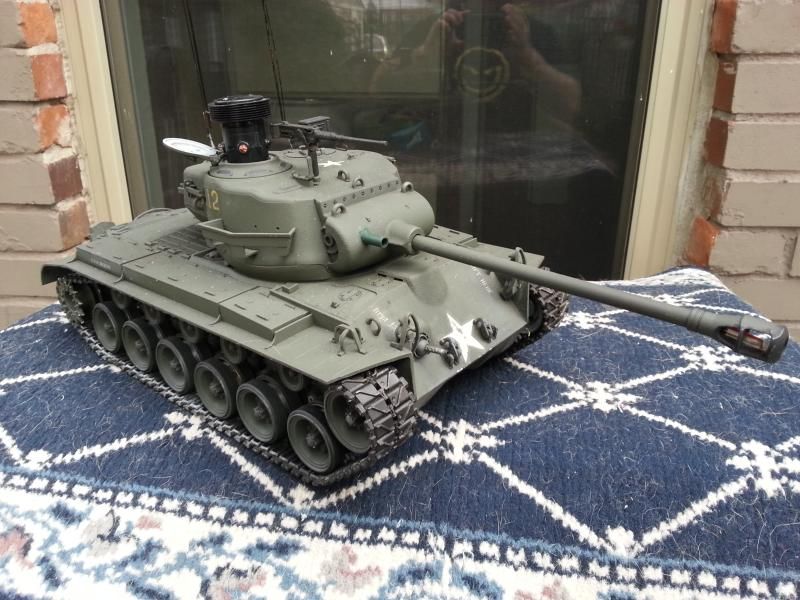 M4A1 Sherman
MATO plastic hull, an oldie but a goldie. Has Mato brass gearbox installed and motor upgrades. A bit slow even for our field. Servo elevation, Clark board & IR set up for Tamiya sensor. Plastic wheels / tracks. Lots of goodies on-hull.
$350
AXIS
Stug III
Built by MikeC and painted by Dean, I've driven this maybe 3 times in battle. Solid lower hull as per any PnzIII, has recoil, Clark board and setup for Tamiya sensor. Machine gun lights swap between hull and coaxial, neat feature from Mike. 
$400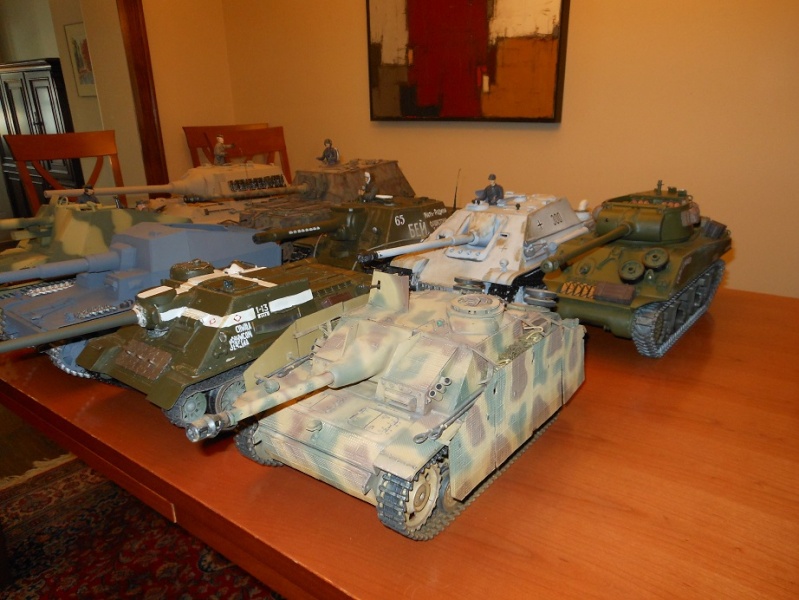 VK 2002
A concept tank you can see the build of here ( 
https://can-amrctankclub.canadian-forum.com/t1807-vk-2002-german-prototype
)
Looks REALLY cool, runs well but I consider it a bit fragile for hard battling. Currently has all stock Clark electronics and plastic gearboxes. Hull is not finished perfectly, such as upper & lower hull fasteners. Really cool to drive around though! No IR installed, airsoft works! Custom paintjob 
par moi!
$250 (inc. battery & radio)
All tanks have an Orange receiver from HobbyKing that works with Spektrum DSM2 radios. For another $20 I can toss in a battery.
On top of that I
MIGHT
let go of my KV-2 or ChiNuKai if anyone is interested. I will judge your worthiness & accept offers, hehe... 
Thanks guys and SEE YOU SOOOOON!