Installation of the power switch and simple wiring connection hookups to said switch
(Toggle switches do not last forever)
Overall lower hull wiring completed. I like to have a clean compartment which is organized as much as possible.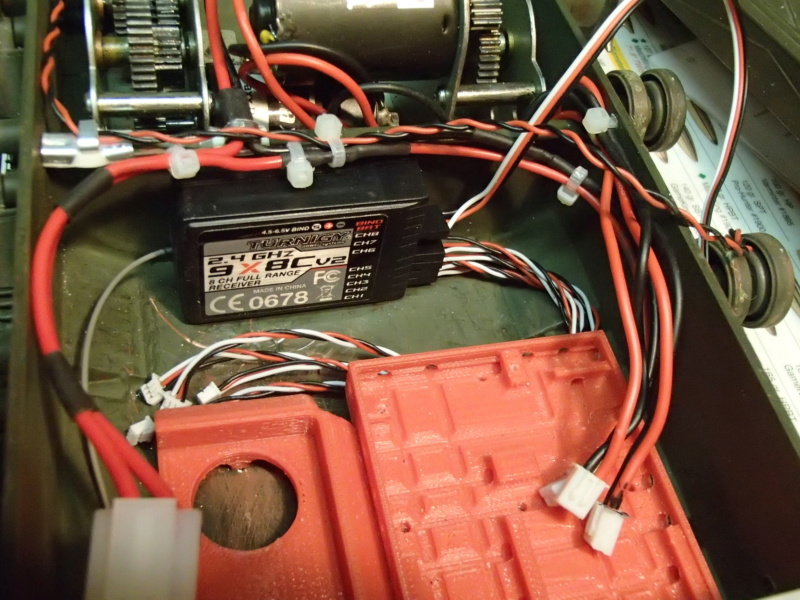 Receiver installed via Velcro strip. 4 channels at bottom are for the future Clark board (Tray fits TK-20 up to TK-40)
The upper connection on the receiver is for a power lead to my FPV system that will mount on the turret.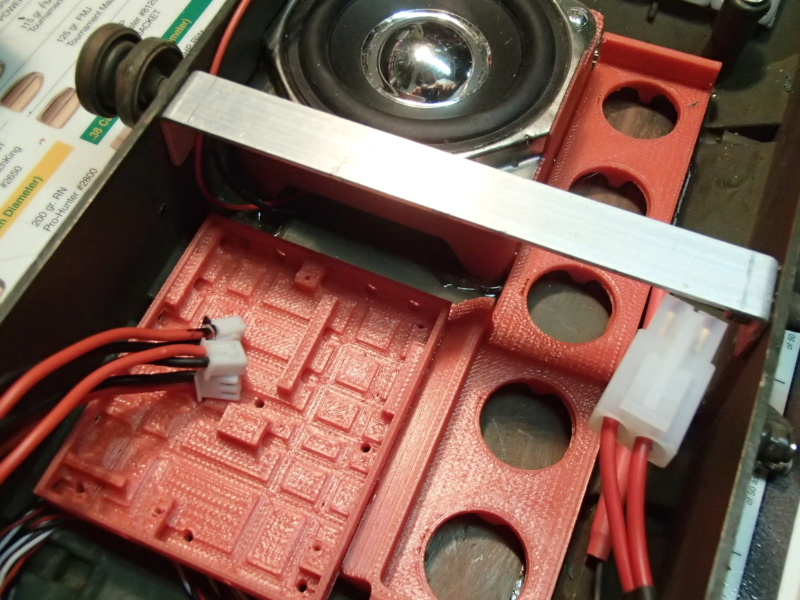 Close up of the vented Clark board tray I made up and the simple speaker/battery tray setup installed.
I have added a small 7mm wide x 2mm thick adhesive backed foam strip along the right edge of the battery tray.
Better to have the battery not shift too easily.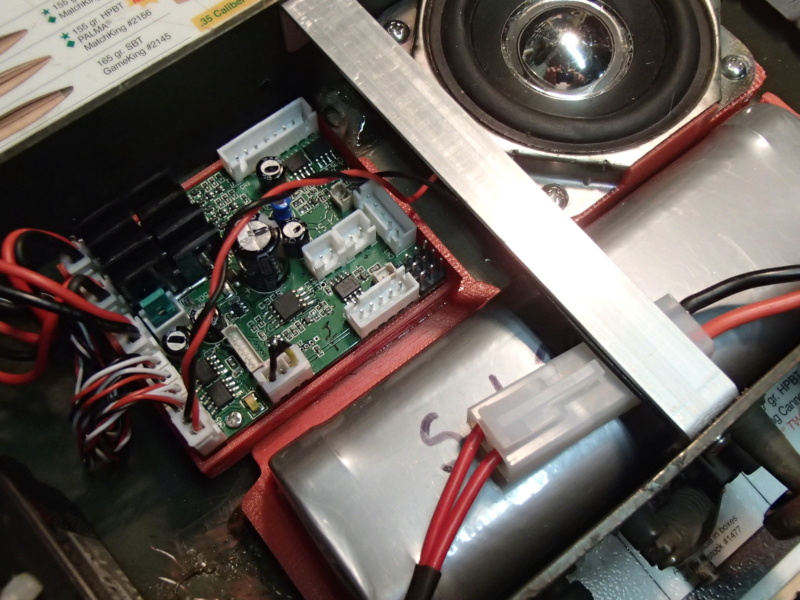 Son's Clark JT TK-22 board installed for installation and routing finalizing.
Max volume jumper and a el-cheapo NiMH battery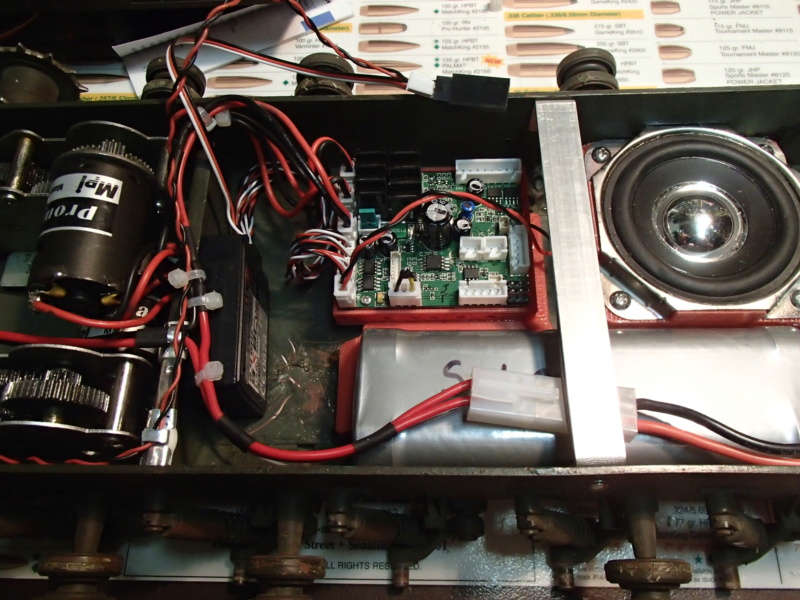 Final installments and fit-ups before adding the running gear back on.
You can see the two connectors sitting just above the hull edge.
Rear Brake Lights (white JST) and FPV Power (black Futaba)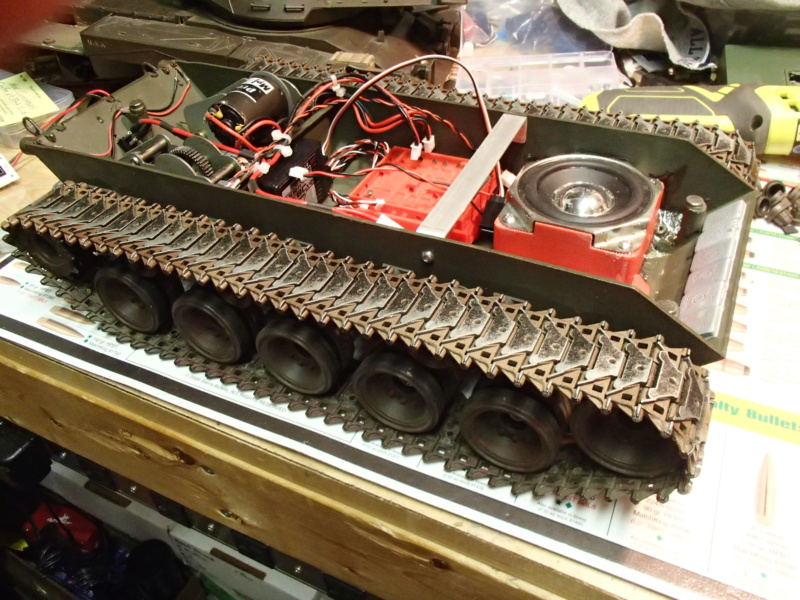 Re-installation of the tracks and running gear. Cleaned up the rotating surfaces a bit.
Drive sprocket and tracks are metal, road wheels and idler are plastic. May have to look at metal arms at a later date.
Side shot of the running gear. The cross brace screw head has a ton of clearance from the track.
Butt shot of the lower tank hull showing the location of the main power switch. The missing pieces have always been missing.
Doubt I'll replace them as this is to be a pure battler... Little bits get broken all the time...
Gratuitous under the skirt/bottom hull shot showing the sealed up battery compartment.
Magnetic hull system and internal battery for ease of replacement. Always done to ALL my tanks...
The assembled M41 Bulldog. Ready to accept a Clark TK22/24/40 board and go IR Battle.
Wheel hub covers and a couple loose parts to add on are in a ziplock inside the tank.
3/4 front view showing the M41 ready for action. Paint and finicky detail work are not my forte.
I have friends who are excellent painters I may have to trade them some internal tank work for external tank work...
Now the question is which of these two lovely acquisitions will be next for an upgrade treatment...
PZ III, or Stug III? Both came from Dan Crowley (aka YHR) awhile back. Still look awesome to me...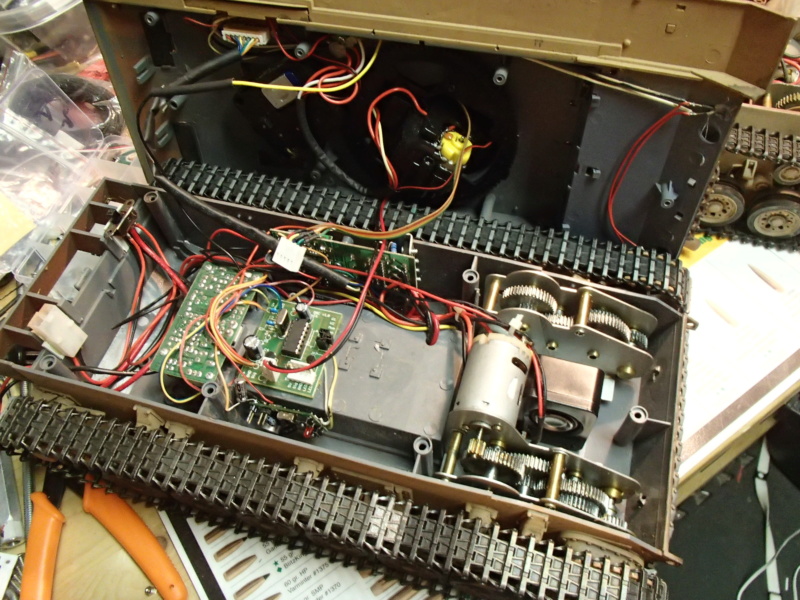 The internals of the PZ III... (Hidden IR receivers and hit LED's in the cupola...)
The internals of the Stug…
Which one to do first....