I will give you guys a chance here first before I post it on other forums.
Set of steel road wheels for the KV-1 / KV-2.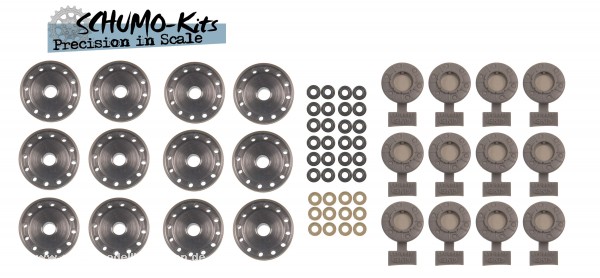 Steel turned, each road wheel has a double ball-bearing, also a nylon washer and a resin cover.  
The set represents the first version of the KV road wheels, which was had two parts and a rubber rim.  These wheels are correctly detailed.  The ridges on the cap are asymmetric like the original.
This kit is sold out on most sites and hard to fine.
Asking $200.00 plus shipping.
SOLD!
---
IMPACT designed and produced KV-1 / KV-2 tracks and sprocket set.
Sorry, not the best picture, I'll have to get a better one.
These are closed pinned tracks.

Asking $120.00 plus shipping.
SOLD!

_____________________________________________
HL Panzer III   |   HL Tiger   |   HL Jagdpanther   |   HL Panther   |   Mato Sherman
Hooben Elefant   |   HL Pershing   |   HL Bergepanzer IV   |   Tamiya Leopard 1A   |   WSN T-34
HL "Golden" Pan-Tiger   |   M16 Halftrack   |   HL Panzer IV   |   Tamiya KV-1   |   Tamiya Tiger