Hi all,
Dean recently showed me an intriguing item for sale on banggood: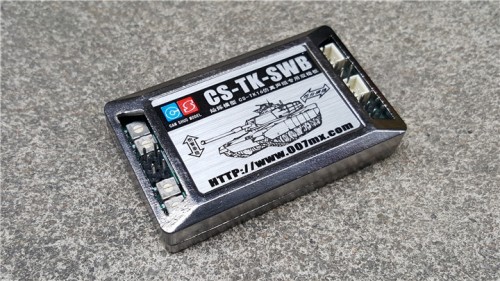 I am no stranger to this CS-TK series electronics as I have seen it before (A Chinese based Tank MFU) and actually talked to Carson about it and when I was visited Hong Kong earlier this year. He had told me that the only limiting factor is that the board is configured using response from the board in Mandarin, so unless you speak mandarin, there is no way to configure the board properly.
However, I was not aware that there is a standalone module from them (CS-TK-SWB) that will allow main gun stabilization. After a quick confirmation from Carson that others has used this with other tank electronics, I bought the 4 that Carson has in stock and it arrived this past Monday.
I still have to work thru some details, and also brush up on my written chinese to understand the wiring hook-up, but it does appears that this is an add on to any tank electronics to create main gun stabilization. I will try to post some videos when I have a chance to fit this into one of my moderns. The really exciting part about this is that there is a Heng Long rotational unit input, so it is a plug any play even without servos.
Basically the connections are, starting from top left going down:
- Elevation Sensitivity Fine adjustment
- Elevation Gain Fine adjustment
- Elevation Servo input
- Rotation Servo Input
- Rotation Sensitivity Fine adjustment
- Rotation Gain adjustment 
Top right going down:
- External 2S/3S power input
- Stabilization on/off
- Rotational direction
- Heng Long rotational unit input
- Elevation Servo output
- Rotation Servo output